Building an Effective Incentives and Rewards Program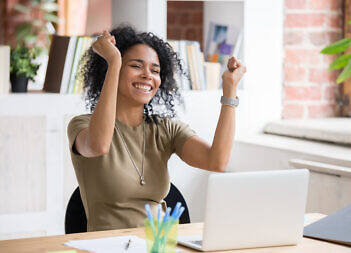 Beneficiary-targeted incentives have great potential in preventive care and health promotion. Unhealthy behavior is a significant cause of poor health outcomes and high health care costs. Offering a choice of rewards, such as gift cards for selected merchants, can motivate members to actively improve their health and decrease risks. Ultimately, incentives provide a win-win as health plans also benefit by increasing member engagement and improving HEDIS measures.
Incentives Drive Healthy Actions
An increasing body of research demonstrates that incentive programs encourage Medicare and Medicaid members toward positive health actions. According to the Centers for Medicare & Medicaid Services, interventions that address the behavioral or social circumstances that influence participation in preventive health services will positively impact outcomes of preventive health services, improve health, and decrease growth in health care expenditures. Furthermore, a 2019 study in behavioral economics found that even small incentives can positively influence choices.
Ideal Incentive Program Outcomes
High levels of engagement – beneficiaries are aware of the program and are motivated to improve their lifestyle.
Behavior changes and risk reduction – taking active steps to improve their health and lower risks.
Healthcare utilization and costs – decrease healthcare costs and increase preventative care costs and prescribed medications.
Budget neutrality – program effectively promotes behavior change and reduces risks and healthcare costs that balance the program's cost.
Regulatory Compliance
The 2022 regulatory structure for Rewards & Incentives (R&I) in Medicare Advantage plans has been released, advancing racial equity, and supporting underserved communities with requirements for offering rewards uniformly and without discrimination to all enrollees who qualify. Medicare Advantage plans must provide rewards uniformly and without prejudice to all enrollees eligible for the incentivized services. These regulations no longer allow HEDIS denominators or numerator status as the eligibility criteria for incentives.  Rewards must be voluntary and target improvement in specific activities rather than rely on outcomes. Review any disparities in data collection efforts in member interactions and procedures related to gender identity, race, disability, literacy, ethnicity, and language preferences to align with Proposed NCQA Standards.
The regulations also state that approved gift cards are allowed with restrictions (may include retailers like Walmart and Target but with exclusions for items such as alcohol, tobacco, and firearms). These regulations do not allow unrestricted gift cards, debit, and reloadable cards (including Visa, MasterCard, or Amazon). To become familiar with how these regulations may affect your incentive program, visit the 2022 CMS Readiness Checklist.
ConXus Rewards
Partnering with a company with a proven track record in developing, customizing, and managing a successful incentives program for your membership is key. PDHI's ConXus Platform offers a flexible incentive management application that can issue rewards for individual actions or a combination approach, such as a reward earned when the member completes the health assessment and attends an Annual Wellness Visit. ConXus offers flexibility in reward type and fulfillment method to best suit your plan's goals and initiatives. These rewards can be integrated into your member portal, giving the member visibility of rewards earned. Additionally, ConXus can consolidate incentive awards from multiple sources, such as completing a health assessment or claim submissions. This reduces the effort on the member's behalf, increasing the likelihood of engagement. PDHI continually works with leading health plans to develop member engagement programs that build rewards and incentives programs that get results.
Among the many challenges Covid-19 has introduced to healthcare, it has caused a delay in much-needed preventative screenings, so motivating members to take action is more important now than ever. Health plans whether they service Medicare, Medicaid, or other plan members share a common goal: helping members stay healthy. Incentivizing members through ConXus Rewards allows you to close gaps in care, improve quality performance, and maximize your return on investment by encouraging members to take control of their health and wellbeing.
Get the White Paper
Guide to Building an Effective Incentive Program