Coaching System
ConXus Direct is an online health-coaching software that streamlines the administration of coaching programs and standardizes care delivery.
Using ConXus Direct, health and wellness coaches document encounters, optimize productivity with workflow tools, and access risk stratification and health record data for targeted interventions.
Configurable Coaching Process
ConXus Direct can be configured to support your business rules, including stratification, coach assignment, recruitment, participant status, workflow processes, and scheduling. Multiple service models and use of one or more coaching vendors can be supported using the same system.
Configuration options support incentive-based coaching through automatic award of incentive points for attending a coaching session or completing a series of coaching sessions. The diagram below illustrates the coaching process: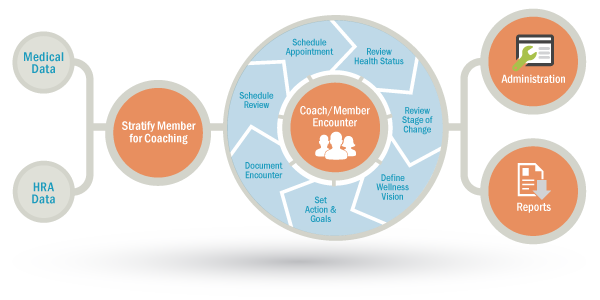 Program Administration
Coach Administrators have tools to create coach accounts, assign coaches to coaching groups, and manage message template and attachment libraries.
Comprehensive internal and client compliance reports are available for self-service from the ConXus Administrator Portal. The reports include coach assignment, scheduled/ unscheduled appointments, completed/ missed encounters, and participant status, selected by client, coaching group, or coach.
Incentive Management
To support complex incentive programs, tools enable coaches to review wellness targets and participant status, assign and update qualifying activities, and manage exemptions and reasonable alternatives.
Case Load
A task-oriented approach guides coaches in workflow management. Task templates may be configured for each client and coaching group to support different coaching models. Tasks may be assigned automatically by system events, such as HRA Locked, or assigned manually by a coach.
The scheduling system manages interactions between the coach and the participant. Coaches set their availability for coaching sessions. Appointments can be defined as schedulable by the participant or schedulable by the coach.
Using the secure messaging system, coaches communicate online with participants. Attachments to messages can be used to distribute educational material, and text templates can be defined for frequently used messages to improve the efficiency and quality of communications.
Encounter
To present a unified participant profile, ConXus Direct integrates data self-reported by participants, entered by coaches, and loaded from third parties. Data may include lab results, biometrics, claims, and prescription refills. Coaches gain immediate online access to this participant profile to guide the encounter and optimize use of coach time.
During the encounter, coaches record status, complete progress notes, and schedule the next appointment. The goal-setting tool allows coaches to create, share, and track goals with the participant during each encounter.
Secure Messaging
ConXus Direct provides coaches with a secure messaging system for communicating with program participants. A client-specific template library allows coaches to create text templates to facilitate delivery of standard responses.
Each message may include attachments from a client-specific attachment library or from the coach's desktop. The attachment library can be prepopulated with Healthwise® Care Support Pages for delivery of full-color follow-up resources in PDF format.