Biometric Screenings
ConXus Biometrics is a secure online application for collecting, consolidating, and managing biometric data from health fairs and health screenings.
ConXus Biometrics can operate independently or as part of the integrated ConXus Platform.
Data Management
ConXus Biometrics consolidates screening results from multiple vendors and venues, including screenings completed on-site at health fairs, at central labs, in the physician office, or at home using a kit.
Biometric data automatically populates in real time ConXus Health (personal health record), ConXus Profile (health assessment), and ConXus Direct (health coaching). The data triggers the award of incentives for completed screenings or on-target results, based on plan design.
The diagram illustrates the ConXus Biometrics process for data collection and management.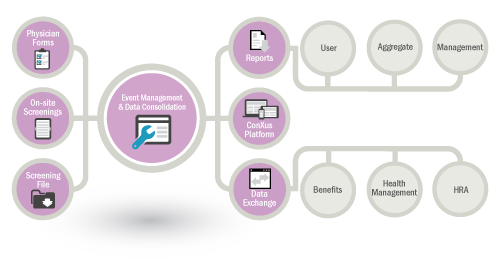 On-site Screening
ConXus Biometrics provides tools for program managers to configure each health fair, including data elements to be collected, devices used, and screener access.
Using ConXus Biometrics, screeners verify participant eligibility at the time of screening and can enforce one screening per participant per program. Screeners can also efficiently enter results and print a participant report for immediate feedback. The report may also be delivered online at the Wellness & Benefits Hub.
Administrator Reports
Reports are available self-service to client administrators at the Administrator Portal. Reports can be run by service level, employer group or subgroup, and date range.
Management reports track screening participation rates. Biometric risk reports provide an analysis of biometric risks for a program. Trend reports compare results across programs, with options to review the total population (all participants in each program) or the cohort (participants in both programs only).
Program Administration
Batch-import tools allow loading of data from central labs or third-party vendors on a scheduled or as-needed basis. The load process supports full or partial data loads and corrections to previously loaded data. It also verifies participant eligibility at the time of data load and gives immediate online access to log and error files.
Batch-export tools allow results to be transferred to the client data warehouse or to third-party vendors.