Health Assessment
ConXus Profile is a configurable health risk assessment (HRA) engine that delivers PDHI's NCQA-certified assessments and can also be used to deploy client-developed assessments.
ConXus Profile supports question completion from any PC, tablet, or smartphone. The questionnaire may also be completed using paper forms or facilitated by a health navigator.
PDHI has received Wellness and Health Promotion (WHP) 5 certification from the National Committee for Quality Assurance (NCQA) for health risk assessments for the following populations:
These health appraisals use evidence-based guidelines and aim for a sixth-grade reading level. They follow the National Standards for Culturally and Linguistically Appropriate Services (CLAS) in Health Care in their use of texts and images. To ensure currency with clinical guidelines, PDHI reviews and updates assessments annually, or more frequently when a guideline changes.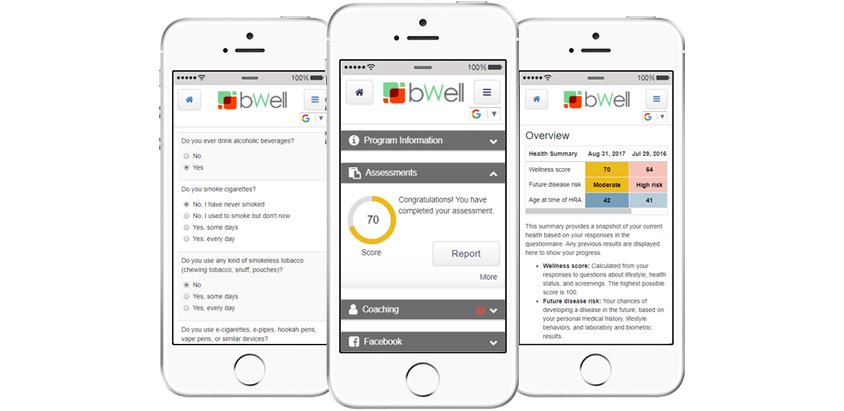 Online Health Assessment (for any PC, Tablet, or Smartphone)
The online questionnaire uses conditional branching logic to present the question set relevant to each user based on age, gender, and program options. Clients may configure the questionnaire to add or remove questions.
Data is saved automatically, and the participant may stop and return to complete the questionnaire at a later date. The questions can be switched between over 100 languages at any time using the Google Translate feature.
Upon completion, responses are locked before the personalized report is displayed to the participant. Optional review mode delays display of the report until biometric data is available.
Scannable Bubble Forms
Paper-and-pencil completion is also available using bubble forms that support standard scanning technologies. Scanned data from paper forms is loaded into the ConXus database and merged with data collected through the online questionnaire, providing a single database for reporting. To simplify the user experience, we offer separate paper bubble forms in English and Spanish.
Completion
PDHI offers a range of tools and configurable services to facilitate health risk assessment completion. Our secure system supports multiple data inputs to accommodate your process flow. Our flexible delivery model allows you to use internal resources or outsource to PDHI or a combination of the two. We support:
Member outreach by phone, email, SMS-text, and mail
HRA completion by telephone
Processing paper questionnaires
Mailing reports to participants and providers

Biometric Data
Clients may configure ConXus Profile to collect laboratory results and vital signs from:
Biometric screenings
Central laboratories
Provider forms
Self-report by the participant
Biometric data can be loaded before or after the questionnaire is started and is consolidated with the responses.
Controlled Availability & Incentives
Program settings determine when the health assessment can be completed and the (optional) incentive points that may be awarded for one or more of the following:
Completion of the questionnaire
Batch load of biometric screening results
Biometric results that meet client-defined targets
Participant Reports
When the questionnaire is locked, participants receive a personalized report, available in over 100 languages. The report provides a wellness score, domain scores, and an assessment of health risks and lifestyle behaviors, together with recommended actions for health improvement. Summary results from the previous two HRAs are displayed for comparison with current risks.
A printable provider summary report is also available, in English only.
Administrator Reports
Client administrators run self-service reports at the Administrator Portal. Reports can be defined by service level, date range, and employer group or subgroup.
Management reports track participation rates. Health risk reports provide an analysis of health risks, readiness to change, and compliance with recommended screenings for a program. Trend reports compare results across programs, with options to review the total population (all participants in each program) or the cohort (participants in both programs only).
Batch Printing & Export
Batch-printing functions support fulfillment of member and provider reports. Batch-export functions allow access to all questionnaire and assessment data for custom reporting and data sharing with partners.
Batch processes can be requested online and run overnight, with data delivered to the Administrator Portal. For repeat processes, automated batch jobs may be scheduled for delivery to a secure FTP server.