Coaching & Member Support Enhancements
Available: July 1, 2020
Overview
This update provides enhancements to coaching and member support functions.
Coaching
Coaching Enrollment
To improve reporting and data access controls, explicit coaching enrollment is now required for a member to be coached in a program. Enrollment in coaching is required for creation of a progress note or coaching goal, completion of a coaching task, or scheduling of an appointment. Enrollment may be triggered by automated events that assign coach and coaching task templates or activated by the coach, based on client requirements.
Program Assignment
For improved reporting and to simplify the coach user experience, coaching tasks, goals, appointments, and progress notes are now always associated with a program. As part of the update process, all member coaching information for currently active programs and programs that were active at any time during 2019 will be assigned to a program during the update. Older progress notes, appointments, etc. will still be available for review but are assigned to a Coaching Archive program.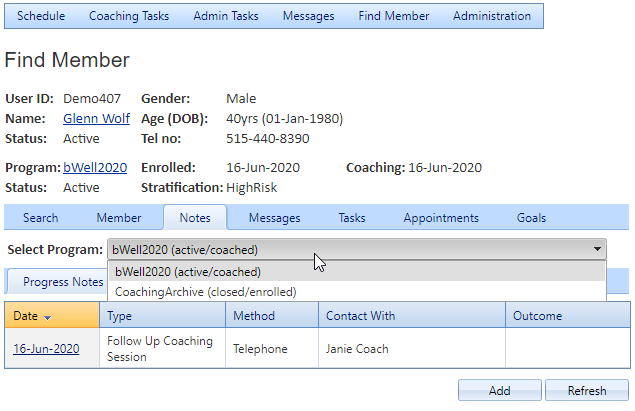 New Program Coaching Status and Program Stratification
To better measure coaching engagement and progress over time, status and stratification codes may now be tracked for a member for each program in which they are enrolled in coaching. Member status remains available where clients wish to track status not directly related to coaching or a specific program.
Coaching Task Templates
Improvements have been made to the handling of coaching task templates to better support tasks that are assigned to a coach who is not the member's assigned coach. This facilitates the use of specialist resources such as a pharmacist or nutritionist, in addition to the primary wellness coach.
End-of-Year Close Out and Rollover
To support different coaching models, additional options have been added to manage coaching activities at the end of a program. For each program, a client may now choose to close out or rollover into the new program open coaching tasks, appointments, and goals.
Member Support
Enhanced Search Tools
The option is now provided to search for members who are eligible but not yet registered, as well as for members with a registered user account. When the record for an eligible but not registered member is accessed, the user account will be created automatically, allowing completion of necessary actions.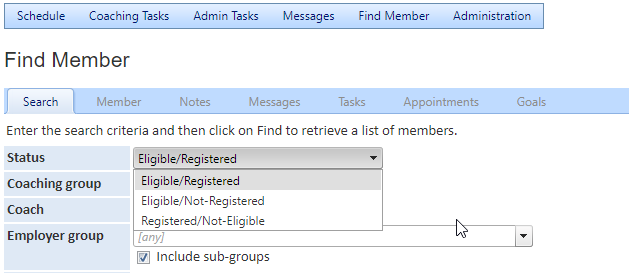 Addition of Contact Notes
A new tab has been added for Contact Notes, designed for tracking contacts with members that are not related to coaching, such as password reset requests. This provides separation of member support interactions from coaching progress notes.
New Admin Task Queues
To improve workflow management and resource allocation for activities such as enrollment outreach, Admin Tasks are now assigned to a queue, not to a specific user account. This allows multiple resources to work from the same queue, each pulling down a task only when available to perform the required task.

Expanded Reporting
All of the coaching reports have been updated to reflect the assignment of coaching activities to programs. Report presentations now include summary and listing tabs by coach and by program.