Health Coaching System
ConXus Direct streamlines the administration of your health coaching programs, standardizes care delivery, and optimizes the productivity of health coaches.
The system is available as a stand-alone application or may be integrated with our portal solutions to connect coach and participant.
Configurable Coaching Processes
ConXus Direct can be configured to support your business rules, including stratification, coach assignment, recruitment, participant status, workflow processes, and scheduling.
Participants can be stratified into coaching and assigned to coaches or coaching groups based on screening results, health assessments, and medical claims data.
Multiple service models and use of one or more coaching vendors can be supported using the same system.
For the Coach
Coaches set their availability for coaching by appointment type (telephonic and onsite) and may schedule coaching sessions using the integrated calendar.
Participant data can be reviewed in real time to enhance the quality and efficiency of the coaching encounter. This includes all components of the program, such as the health assessment, screening results, and gaps in care.
The coaching session is guided by a checklist to review status, set goals, and document progress. The secure messaging system allows delivery of educational material and engagement with the participant between appointments.
For complex incentive programs, coaches may review wellness targets, assign and update qualifying activities, and manage exemptions and reasonable alternatives.
For the Participant
As an integral part of the Wellness & Benefits Hub or Member Portal, participants can engage in coaching from their PC, smartphone, or tablet to:
Meet their coach
Message with their coach
Set and review their appointments
Review and record progress with goals set by the health coach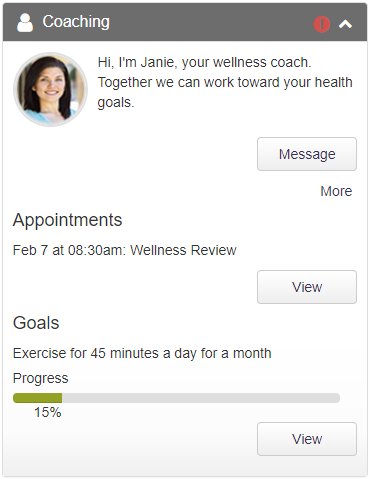 For Coach Administrators
For efficient program management, coach administrators can create coach accounts, assign coaches to coaching groups, and manage message template and attachment libraries.
Comprehensive internal and client compliance reports are available for self-service and can be scheduled to run periodically (e.g., weekly, monthly). Reports include coach assignment, scheduled/unscheduled appointments, completed/missed encounters, and participant status, selected by client, coaching group, or coach.