Incentive Management
ConXus Rewards is an incentive management system for wellness and population health programs that provides real-time feedback to employees, coaches, and administrators. Easy-to-use tools simplify program setup, administration, and compliance reporting.
ConXus Rewards provides great flexibility in program design, supporting incentives assigned at group level for:
Participation-based programs – where participants earn incentives for completing an activity such as attending a wellness event or reaching a challenge milestone.
Results-based programs – where participants earn incentives for achieving client-specified biometric targets.

Incentives may be assigned to each target or to more complex designs such as three out of five results on target.
Incentives may be awarded to participants who do not meet required target levels but have shown significant improvement from a prior program. Improvement target programs reward healthy change for participants at all risk levels.

Qualifying activity programs – where participants must complete client-specified wellness activities (such as attend a health screening) to gain certain plan benefits.
Incentive programs can be defined by tiers or by time periods. Time periods drive program engagement throughout the year while tiers encourage healthy lifestyle changes and gamification through level achievement.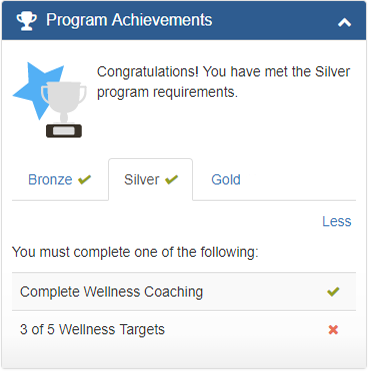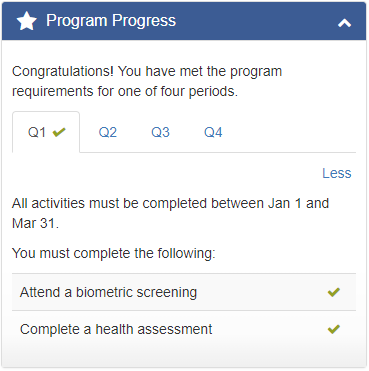 Program Definition
Participation points, wellness targets, and qualifying activities can be assigned for each employer program and participant group, providing the flexibility to match plan design.
Incentive Program Status
The Wellness & Benefits Hub is updated with participation, progress, and compliance information as data is loaded and activities are completed, providing participants with immediate access to status information on their personal dashboard.
Manage Exemptions, Reasonable Alternatives & Reporting
Tools are available for coaches and administrators to review participant status, assign and update activities, manage exemptions and reasonable alternatives, and generate compliance reports.
Management reports, available self-service to client administrators at the Administrator Portal, provide qualification status, points awarded, and redemptions.
Sample Plan Design Supported
Employees must complete a health assessment, attend a wellness screening, and meet the wellness targets to qualify for paying lower medical insurance premiums. If wellness targets are not met, the employee may complete an approved lifestyle coaching program to avoid paying the higher premium.
Wellness targets:
BMI < 30, or 5% weight loss from prior year
Blood pressure < 140/90 mmHg
Fasting glucose < 110 mg/dL
In addition, employees can earn incentive points for completing an action plan, attending a wellness seminar, and participating in a team challenge.
Integrated Fulfillment Option
A fully integrated reward-fulfillment service is offered in partnership with Hallmark Business Connections. Fulfillment services can be offered by employer group, which supports flexible service delivery.
Points are transferred to Hallmark Business Connections in real time. Participants may redeem points online at any time up to the available balance, in units of $5 with a $10 minimum. Hallmark Business Connections offers gift cards for a portfolio of over 350 national and regional merchants.
An invoice is posted to the end-client portal each week for all redemptions made in the previous 7 days. The employer is notified by email. The employer makes an electronic payment (ACH or federal wire transfer) so that a gift card can be issued to the participant.