Content Personalization & Challenge Enhancements
Available: May 22, 2019
Overview
This update includes new personalization to the Health Library widget, a new option to support validated weight requirements in the weight management challenges, a new Bases Loaded activity challenge, and improvements when using attachments in messaging. This update also provides administrators with additional options for incentive and challenge reporting.
Wellness Hub
Content Personalization
For clients who utilize the Healthwise Knowledgebase, participants will now see customized links to recommended articles and videos in their Health Library based on their health risks from completing the health assessment.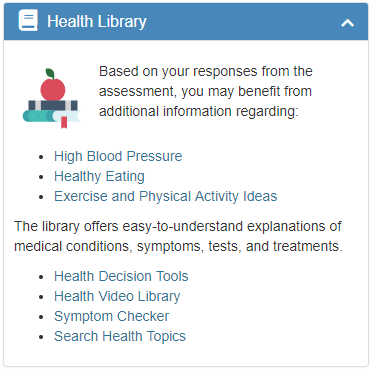 Validated Entries for Weight Management Challenges
Lose for Health and Maintain Don't Gain weight management challenges now support the use of validated weight results for the initial and final weight, with the option to allow self-reporting during the challenge period.
Validated results may be batch loaded from a file or entered individually by a coach or program administrator.
Validated results within the initial and final steps are auto-populated into the challenge when recorded.
Challenge reports include an initial weight, final weight, and total change in weight.
Bases Loaded Challenge
With a baseball theme, participants in this challenge aim for better health by improving their lifestyle habits. Whether watching a game or typing at their desk, they can fit more activity and better food choices into their routines, earning more runs as they increase their activity.
Available & Upcoming Challenges
To improve the user experience where challenges are scheduled at intervals during the year, a new Upcoming tab has been added to the challenge widget. Challenges available for enrollment now are listed under the Available tab; challenges with a future enrollment date are listed under the Upcoming tab.
Message Attachments
For improved usability, when a coach sends a message to a member with one or more Library or CareSupport attachments, each attachment name will be displayed to the member in the message header as well as the file name.
Administrator Reporting
Incentive reports now include an award expiry date for programs that use a timed expiry period for redemption of incentive awards.
Challenge reports have been updated to include initial weight, final weight, and the total change in weight to facilitate the management of weight management challenges using validated weight results.