ConXus Platform Enhancements – November 2018
Available: November 27, 2018
Overview
This update includes new options for the management of incentive points, an updated user interface for the coaching system, as well as enhancements to the wellness hub.
Rewards
To provide greater flexibility in the management of incentive awards and redemptions, options for group setup are now provided as follows:
Global scope: Point awards remain active until redeemed regardless of program dates, as at present.
Program scope: Point awards expire at the end of a program, with no rollover of any point balance to the next program.
Timed expiry: Point awards expire a defined number of days after they are awarded, regardless of program dates.
Current programs will remain as global scope unless updated manually. Clients who use Hallmark Insights for reward fulfillment are restricted to the global scope option only; clients who use Online Rewards for reward fulfillment may use any option.
In addition, program managers may no longer delete or update existing point awards and redemptions. Program managers must now make corrections by creating an adjusting award, providing a full audit trail.
Coaching System Look & Feel
A number of changes have been made to the coaching system controls and styling to provide a cleaner look and feel. The functions or tools available to the coach have not been impacted by these changes.
Wellness Hub
Wellness Events
Wellness events have been updated to simplify the process for recording completion of an event without leaving the dashboard.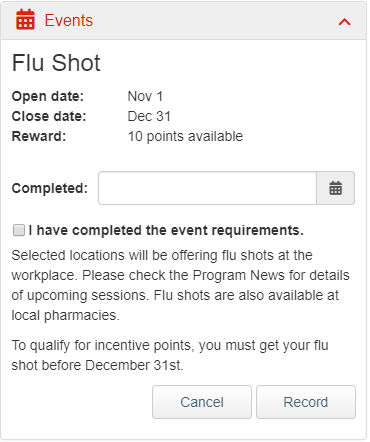 Form Download/Upload
The form download/upload functions have been consolidated into a single component, reducing the space required on the dashboard. Clients currently using this function will not be impacted.