New Fitness Device Integration
Available: November 8, 2021
Overview
This update replaces PDHI's existing fitness device integration partner, Validic, with a new partner, HumanAPI. It is important to note that when the update is deployed on Monday, November 8th, we will continue to support the existing integration with Validic. Participants who are currently using the Validic device integration will continue to do so and will not be negatively impacted while we transition all participants to the new integration partner. Validic support will end on December 31, 2021.
HumanAPI
PDHI has contracted with HumanAPI to integrate data from wearable fitness devices into the ConXus Platform. With HumanAPI, ConXus stores more information about the device(s) being used by each participant, sees data more readily, and has improved troubleshooting when issues arise. In addition, HumanAPI supports direct integration with Apple HealthKit, avoiding the need to use alternative apps to load this data. HumanAPI has an aggressive product development pipeline that will include other phone device manufacturers in the future.
To facilitate migration from Validic to HumanAPI, we understand that participants are in one of the following categories. We will provide an implementation process for each of these scenarios:
Not currently using an integrated fitness device
Currently using an integrated fitness device
End of program closeout
Participants not currently using an integrated fitness device
Beginning on Monday, November 8th, 2021, any participant who enrolls in a challenge where fitness devices are used will be presented with the HumanAPI interface. They will not have the option to use the Validic integration.
Participants currently using an integrated fitness device
Where a participant already has a device connected with Validic, beginning on Monday, November 8th, the participant will receive a popup at the top of their home page on logon asking the participant to connect their device again. The participant will be redirected to the HumanAPI set-up page and asked to select the device of their choice to proceed.
Participants who do not log in or do not choose to connect with the HumanAPI interface will continue to track as usual until the earliest of program closeout, see below, or December 31st. Once Validic support ends, device tracking will be disabled from Validic, requiring the participant to reconnect their device using the Human API interface via the challenge Manage device widget.
End of program closeout
Beginning on Monday, November 8th, 2021, when a program closes, Validic device connections will be disabled automatically. Participants will be forced to use the HumanAPI integration when they enroll in a new program and challenge supporting fitness device integration.
New Device Widget – Challenge Dashboard
Participants enrolling in a challenge with fitness device integration enabled, will now have access to a new fitness device widget to manage their device. This new widget will allow participants to see:
The device integrated
Connected since date
The last three transactions received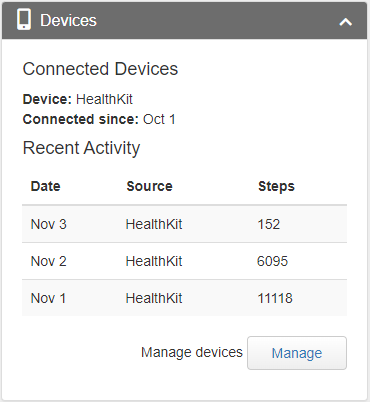 Supported Devices
The following wearables are currently supported in the HumanAPI integration:
Apple Health
Strava
Fitbit
Withings
Garmin
MyFitnessPal
VitaDock
iHealth
MapMyFitness
Google Fit