New Scheduler and Screening Enhancements
Available: December 5, 2019
Overview
ConXus Biometrics has been enhanced to include a fully integrated scheduling system for onsite screening events, which removes the need to use third party products. This update also adds a new screening widget for the member dashboard, a new results import option, and enhancements to the screening reports.
Screening Widget
From the new screening widget on the dashboard, participants may access all the tools and information required to complete a screening. A program may include any combination of onsite events, provider forms, laboratory forms, and pharmacy vouchers. In addition to defining the screening options available, program managers can configure the headings, images, and instructional text displayed to the participant.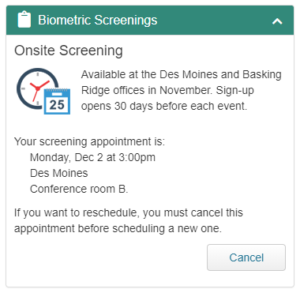 Onsite Event Scheduling
The new, fully integrated, scheduling capability provides tools for program managers, participants, support personnel, and screeners to better manage onsite screening events.
Program Managers can optimize the utilization of screening resources by setting dates, start and end times, slot length, and slot capacity for each screening location. They can also control when slots are released for participant sign-up and restrict last-minute cancellations.
Participants can pick an onsite location and date, view open slots, and sign up for an appointment. A confirmation message with a calendar attachment is sent when the appointment is scheduled. Participants may cancel and reschedule appointments, subject to any cancellation restrictions defined for the event.
Support Personnel can schedule and cancel appointments on behalf of the participant and also check-in attendance at the screening event.
Screeners at the onsite event are presented with a list of scheduled appointments, allowing rapid selection of the participant for the creation of a screening record and collection of results.
Screening Results Import
For clients loading screening results into the platform from a central lab or third party vendor, a new option has been added that loads results into a screening record, instead of directly into the PHR. This allows screenings from all sources to be included in the screening reports.
Enhanced Reporting
Two reports are available to program managers using the scheduling tool:
Appointments provides a summary of slots available, booked, and open by location and date; as well as daily utilization by time slot, and a listing of appointments by participant.
Attendance provides a summary of appointments scheduled, checked in, and no shows by location and date, as well as a listing of attendance by member.
In addition, the Screening Participation and Referrals reports have been enhanced to provide greater flexibility in data selection and output.