Elevation Corporate Health Success Story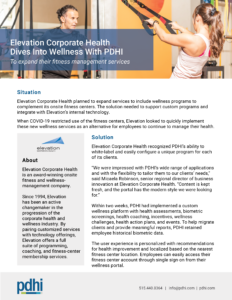 Diving Into Wellness With PDHI to Expand Fitness Management Services
Elevation Corporate Health is an award-winning onsite fitness and wellness-management company.
Since 1994, Elevation has been an active changemaker in the progression of the corporate health and wellness industry. By pairing customized services with technology offerings, Elevation offers a full suite of programming, coaching, and fitness-center membership services.
In 2020, Elevation implemented the PDHI ConXus Platform to configure unique wellness programs for each of its clients. Their custom solutions include health assessments, biometric screenings, health coaching, incentives, wellness challenges, health action plans, and events.
"We're confident that this new integration of PDHI's platform with our services offers our clients a robust solution for their wellness programs," said Angela Nichols, senior vice president of business innovation and partner at Elevation Corporate Health.
[wpforms id="9783″ title="false" description="false"]