Impact Health Success Story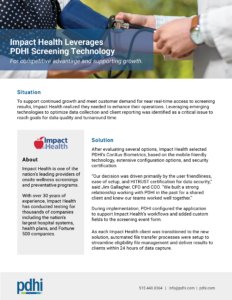 Leveraging PDHI Screening Technology for Competitive Advantage and Continued Growth
Impact Health is one of the nation's leading providers of onsite wellness screenings and preventative programs. With over 30 years of experience, Impact Health has conducted testing for thousands of companies including the nation's largest hospital systems, health plans, and Fortune 500 companies.
Impact Health has powered their screening services with PDHI's ConXus Biometrics application since 2017.
"We have improved our turnaround time for sending results to clients from 3 days to real-time data transfer, or overnight if we are batch loading the data." said Heather Laird, Data Manager at Impact Health.
[wpforms id="8926″ title="false" description="true"]