Second Generation Challenges: Relax & Revive, Hydrate for Life, and Sleep Smart
Available: June 14, 2023
Overview
Keep your participants engaged in their well-being with the release of version 2.0 of three of our most popular wellness challenges, Relax & Revive, Hydrate For Life, and Sleep Smart. These updates feature enhanced messaging, refreshed milestones, and stunning visuals, making them the most engaging and motivating challenges yet.
Get to Know the Challenges
Relax & Revive, Hydrate For Life, and Sleep Smart are highly configurable challenges that can be delivered as a standalone or combined with other components as part of a larger wellness program. With these updated challenges, participants will learn new strategies to reach their goals of reducing their daily stress levels, drinking more water, and getting a better night's sleep; all while earning rewards! Participants are asked to track their minutes spent relaxing, glasses of water, and hours of sleep each day.
Enhanced Messaging
The new and improved challenges feature celebratory messages, timely updates on team and peer group requests, and alerts for challenge deadlines. Messages are tailored to communication preferences, whether by SMS text or email, at the optimal moment for maximum impact.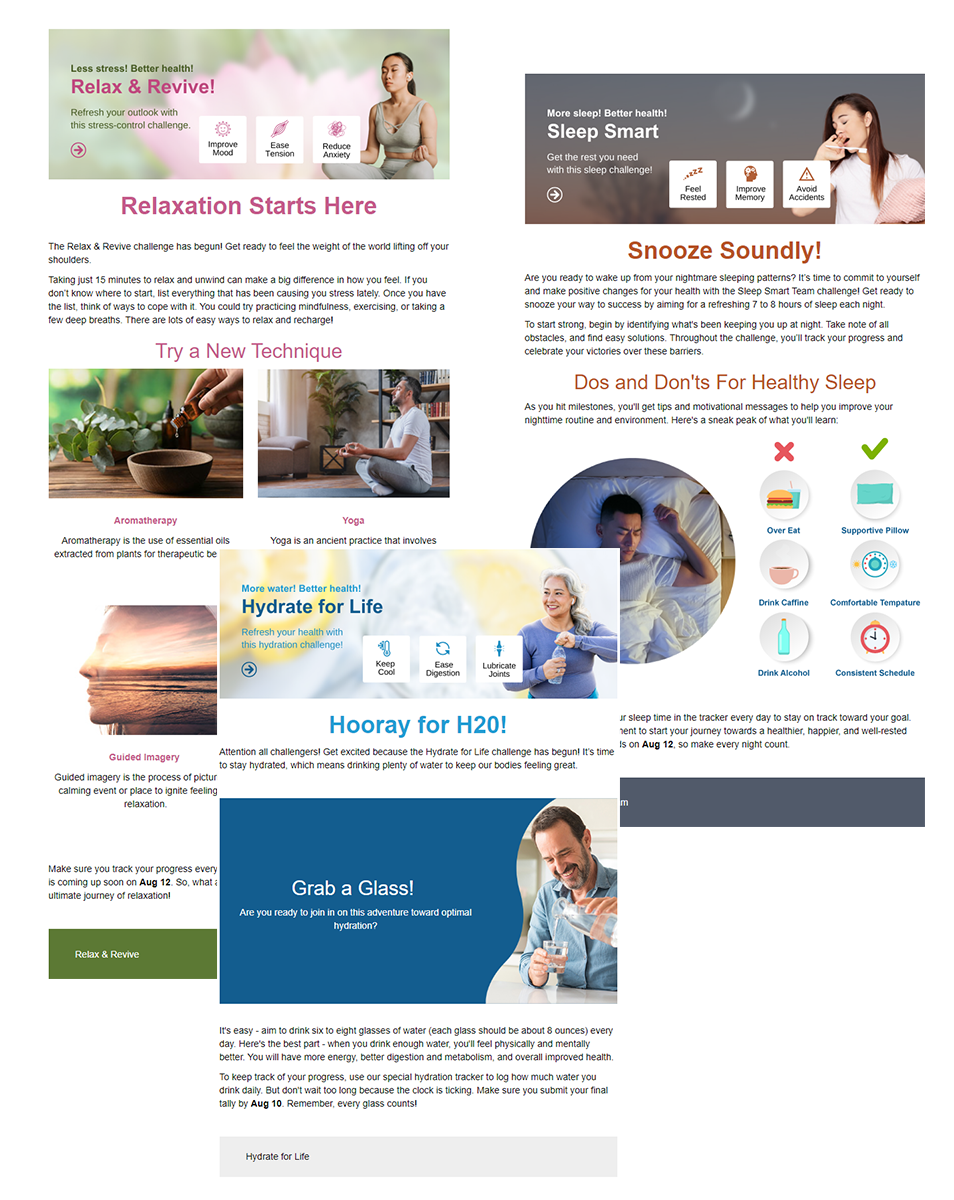 Refreshed Milestones
The updated challenges provide health information and motivational tips to help participants develop healthier habits in several key areas:
Relax & Revive covers 6 new milestones to effectively control stress:
Stress Less
Seek Solitude
Breathe Easy
Mind-Body Connection
Laughter Factor
Positive Shift
Sleep Smart covers 5 new milestones to optimize sleep quality and duration:
Reach For The Stars
Unwind Your Mind
Drift On Cloud Nine
Ready For REM
Rise And Shine
Hydrate For Life covers 5 new milestones to promote proper hydration to boost energy and productivity:
Sip Smart
Rethink Your Drink
Keep Your Cool
Hydration Inspiration
H2O On The Go
Continued Advantages of Configuration
With these challenges, clients can continue to enjoy the same configuration options, including challenge type, start date, duration, and incentives available.
Personal challenges are self-paced, allowing participants to enroll at any time.
Individual challenges have a fixed start date and duration, with participants working independently to reach milestones.
Team challenges also have a fixed start date and duration, enabling participants to form teams and work together to reach milestones.
Implementation Process
To support the implementation of Relax and Revive, Hydrate For Life, and Sleep Smart v2.0, we have provided several documents in the Client Services Portal for a detailed description of the changes included in this release.
Documentation
The following documents are available in the Client Services Portal:
Relax & Revive, Hydrate For Life, and Sleep Smart Content Documents
Implementation Guides
Promotional Materials — Flyers, Posters, Postcards, Emails