Wellness & Benefits Hub
The ConXus Wellness & Benefits Hub provides each participant with a personalized wellness program, benefits information, and the tools for a healthier lifestyle.
Mobile-web responsive design enables full-program access from any device – smartphone, tablet, or PC – at any time.
Integrated
The hub is fully integrated with the ConXus Wellness Platform and comprises the following applications:
ConXus Rewards—incentive-management system
ConXus Direct—health coaching and documentation system
ConXus Biometrics—screening-data capture-and-consolidation application
ConXus Administration—program management and reporting
Configurable
Configure our flexible, white-label wellness solution to include the program components, resources, and applications that support your initiatives. Themes, logos, colors, and images support your brand and can be further configured for each end client.
Support complex benefit designs by selecting modules, completion rules, dates, and incentives for each group or program. New groups may be on-boarded in hours, even with custom branding and configuration. Program components may be added or updated during the program cycle with no downtime.
Personalized
Help every participant succeed by promoting the right tools at the right time based on the user's health risks, wellness goals, benefits available, and interests. The personal dashboard drives engagement by highlighting key information and next steps.
Encourage friendly competition and promote healthy habits with peer networks and team challenges. Incentives earned, updated in real time, motivate participants to complete activities and meet goals. Participants assigned to health coaching can manage coach appointments, review and report on wellness goals, and message securely with their coach.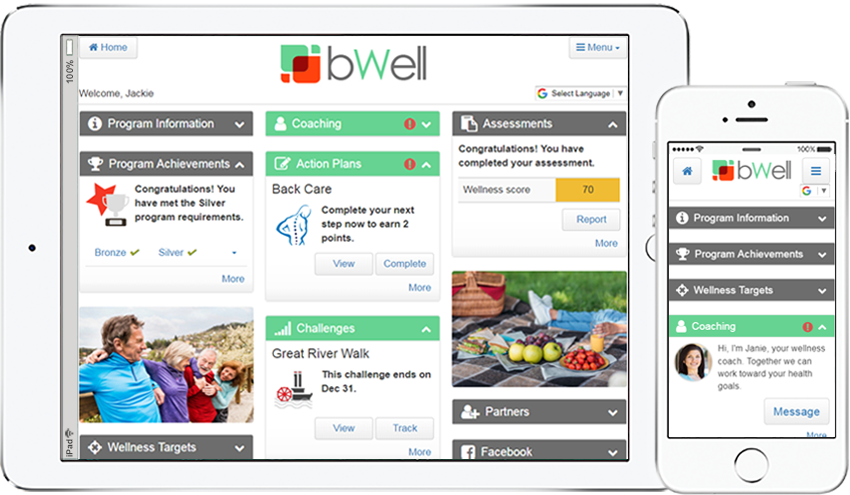 Connected
Connect your data, resources, and third-party applications into the hub
to customize your program.
We integrate with:
Benefits providers (health plan, health savings account)
Health management services (disease management, EAP, telehealth)
Program management applications (event scheduling, surveys)
Social media (Facebook, Twitter, YouTube)
EMR systems
We consolidate data from:
Health screenings and laboratory tests
A wide range of fitness devices and wellness apps
Medical claims