Q&A with Pam Carter: How Health Coaching Software Can Improve Your Wellness Program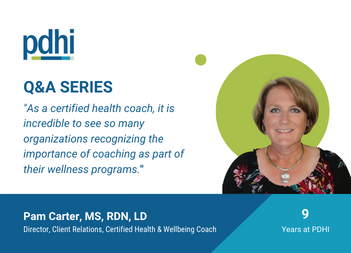 Several studies, including one recently published by the National Library of Medicine, found that health coaching can lead to significantly improved health outcomes and reduce risk factors for chronic diseases.
So, what is health coaching, and why is it important? In this blog, we will explore the ins and outs of health coaching and how software can improve health coaches' productivity, covering the most frequently asked questions.
To guide us in this discussion, we have the pleasure of introducing Pam Carter, Director of Client Services at PDHI. With over 9 years of experience at PDHI, Pam brings a wealth of knowledge and expertise. As an MS, RDN, LD, and Certified Health & Wellbeing Coach, Pam has successfully implemented and trained coaches on the ConXus Health Coaching system for wellness providers, health plans, and health systems. Pam will use her expertise and insights to answer the most pressing questions about health coaching.
Q: Why should organizations offer health coaching in wellness programs?
A: As a certified health coach, it is incredible to see so many organizations recognizing the importance of coaching in their wellness programs. Lifestyle coaching is a key component of these programs that benefits all participants. Maintaining healthy habits and lifestyle choices is crucial for individuals currently in good health. But more importantly, coaching provides added support to help participants manage chronic health conditions and make informed decisions about their health.
Health coaches work with participants on various aspects of wellness, such as tobacco cessation, weight management, diabetes prevention, stress management, and healthy eating, to name a few. Coaching offers numerous benefits to participants, enabling them to enhance their overall well-being. Assisting individuals in adopting healthier habits that prevent diseases is the ultimate goal. With the help of coaching, people can navigate through different stages of change and develop sustainable healthy habits.
These programs are not just about setting goals and achieving them but rather supporting participants in setting goals that align with their health aspirations. By facilitating the achievement of their optimal health potential, these programs reduce medical utilization and workers' compensation claims while increasing productivity and retention for employers.
Q: Can you describe how a coach will work with a participant?
A: Health coaches work one-on-one or with a group of participants to guide behavior change and their health and wellness goals. Interventions depend on the individual's readiness to change, health history, and goals to address specific concerns or conditions, like preventing diabetes or quitting tobacco.
A health coaching program should meet the individual where they are and guide them to make better health decisions. Typically, a coaching program will start with an initial assessment to help the coach better understand the client's health history, lifestyle habits, and current challenges, which can be used to create a personalized plan. The plan should include personalized goal setting followed by regular check-ins for progress monitoring and supported with continued education modules to assist with behavior change between sessions. With ongoing support, encouragement, and accountability, health coaching is highly effective in promoting lasting behavior change and improving overall health outcomes.
Q: On average, how many coaching sessions are offered for each participant?
A: The number of coaching sessions is based primarily on the participant's health status and the resources available to support coaching. Our clients' coaching models vary; some offer a defined number of sessions while others may offer unlimited sessions but within a set timeframe. Appointments are typically scheduled weekly, biweekly, or monthly. Additionally, many coaching organizations also give some discretion to the coach to determine how many sessions a participant should receive. Initially, they may opt for biweekly sessions and gradually transition to monthly sessions once they become more proficient at implementing behavioral changes and maintaining them independently.
Q: How can organizations ensure that they are hiring qualified health coaches?
A: Organizations should look for health coaches certified as Health & Well-being coaches or who have obtained board certification from the National Board for Health and Wellness Coaching. Health coaches who have completed an accredited training program will have received training on various topics like behavior change theory, motivational interviewing techniques, coaching ethics, and best practices. They will also have completed a specified number of coaching hours, supervised coaching sessions, and continuing education requirements, ensuring they are up to date on the latest developments in the field.
Q: How can health coaching software assist in delivering effective services?
A: Using health coaching software is a game-changer for health coaching organizations offering large-scale coaching services, where many coaches oversee the health of thousands of participants.
Health coaching software provides a secure, centralized location to connect participants, track, house, manage, and report on health data. This makes it easier for coaches to analyze data and provide more targeted support to their participants. It also allows organizations to demonstrate results to their clients and stakeholders.
Coaching applications streamline program administration, enhance the efficiency of health coaches, and optimize the overall coaching experience through a range of benefits. These applications stratify participants into coaching groups based on risk levels, assign coaches automatically, and manage coach availability and scheduling of appointments, saving time for both coaches and administrators. Consistent approaches are enabled through these tools, as coaches have access to key elements that must be addressed in each session.
An important component of these applications is that they provide coaches access to comprehensive wellness program data such as health assessments, biometric results, and incentive information for tailored strategies. Additionally, coaching applications facilitate seamless communication and collaboration between coaches and participants through goal-sharing, messaging, and documentation. Real-time reports support program management, informed decision-making, and demonstrate program effectiveness to participants.
Q: How are participants identified as eligible for a health coaching program?
A: This varies for each organization based on its program goals and resources. Custom stratification rules can be used to enroll or provide outreach to qualified participants automatically and will drive the assignment of participants to coaches. Risk stratification based on claims or biometric data and health risk assessment results is an efficient approach used to identify people eligible for health coaching and categorize people based on their risk profile.
Coaching software that supports different coaching models and builds custom stratification processes improves program satisfaction for the program's administrator and participants.
Q: What are some key features to look for in software for health coaches?
A: The ability to tailor unique program offerings for each client is a requirement for all of PDHI's health coaching clients They require the software to support different coaching models based on health conditions and package levels.
One fundamental aspect is the integration of coaching as a core element of the wellness program. This entails incorporating a coaching solution into the participant's portal or account, encouraging active engagement with coaching services. Features to look for include goal setting, messaging, customizable assessments, and ability to share interactive educational resources such as health articles, videos, quizzes, and webinars.
To facilitate task management, the software should include features that assist in organizing and tracking tasks for participants and coaches. Progress tracking, including the ability to add progress notes, and incorporate scheduling functionality to streamline the process of booking appointments.
Lastly, comprehensive reporting on program outcomes and participant progress.
Q: How can health coaching providers meet all privacy, security, usability, delegation, and regulations?
A: A comprehensive coaching solution must prioritize several crucial measures to meet privacy, security, usability, delegation, and regulatory requirements. It is essential for health coaching solutions that handle personal health information (PHI) to safeguard data and adhere to relevant privacy laws, such as the Health Insurance Portability and Accountability Act (HIPAA). Establishing secure systems with restricted access, employing data encryption, and implementing secure transmission protocols are essential safeguards to protect PHI during storage and transit.
When implementing digital tools, online platforms, and electronic communication, it is critical to prioritize robust cybersecurity measures to prevent unauthorized access, data breaches, and other security threats. Companies need to obtain consent and comply with relevant and local regulations, such as the General Data Protection Regulation (GDPR) in Europe or the Personal Information Protection and Electronic Documents Act (PIPEDA) in Canada, which are essential when collecting personal information like names and addresses
Regular security audits, vulnerability assessments, and multi-factor authentication can strengthen security measures. Proper role-based access controls are imperative to ensure seamless delegation of tasks and maintain accountability. Depending on the jurisdiction, health coaches may be required to meet specific delegation requirements, guaranteeing that coaches are adequately qualified and minimizing the risks of harm or liability arising from inadequate training or inappropriate advice.
Compliance with healthcare regulations and standards is crucial for fostering trust in health coaching services. Regular compliance audits verify adherence to industry guidelines, including HIPAA, while ensuring that health coaches are qualified and trustworthy. By upholding these rigorous standards, coaching solutions can maintain the integrity of their services and instill confidence among their users.
Q: What challenges do companies face when implementing a coaching program, and how can they overcome them?
A: In my experience, the biggest challenge for organizations is structuring the program with standard processes that can be supported for easy use in a technology platform.
Defining the coaching workflow and identifying the points needed to be monitored for program adherence and reporting is a starting point for defining the requirements.
Q: How can software help track the success of a program?
A: Health coaching software can track key metrics, such as attendance, completed tasks by coach, encounter time by task type, progress toward goals, and completed coaching. Reporting on these metrics provides valuable insights into the effectiveness of the program.
Q: What are some ways that coaches can promote engagement?
A: Coaches can promote engagement in various ways. First, they need to understand the participant's readiness to make changes to their lifestyle and behaviors. This can be achieved using motivational interviewing techniques, such as asking open-ended questions. Rather than dictating goals, coaches can encourage participants to set objectives during a review of their biometric and health assessment reports.
Personalizing the program is another effective strategy. Coaches can increase engagement by tailoring the program to each client's needs, preferences, and goals. Providing participants with relevant educational resources like articles, videos, and webinars to review as "homework" between sessions can help them gain more knowledge about health and wellness, thereby keeping them invested in the program.
Coaches should encourage participants to leverage other wellness program components, such as challenges and lunch-and-learns. Participating actively in these activities can enhance their engagement and overall experience.
Aiming to gain participants' trust can foster a welcoming and encouraging atmosphere while adding an element of fun to the program can increase motivation and excitement. Consistently providing feedback allows participants to monitor their progress and stay engaged throughout their journey.
In addition, both the wellness provider and the organization responsible for the wellness program can encourage coaching engagement by implementing several strategies. They can emphasize the advantages of health coaching through the wellness program, highlighting its positive impact on participants' well-being. They can also facilitate the connection between the health coach and the participant by utilizing the wellness program portal as a communication platform. This allows for easy and convenient interaction between the two parties.
To make scheduling appointments easier for participants and health coaches, the wellness provider and organization offering the wellness program can provide user-friendly tools. Offering a variety of interaction modalities, such as face-to-face meetings, telephonic sessions, or secure messaging, allows participants to choose the method that suits them best.
To encourage active participation, it's important to offer rewards for attending and completing coaching sessions as part of the wellness program incentives. Continuously measuring the utilization of coaching services and seeking participant feedback is crucial for improving the program's effectiveness.