Health Assessments Can Deliver Leading Data for Population Health Management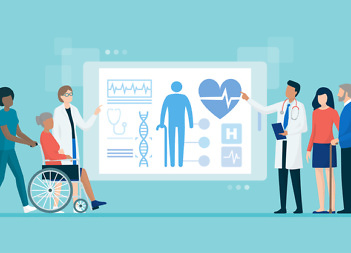 For health plans, managing disparate data is complex, costly, and resource-intensive. Plans consolidate their members' health data from multiple sources: medical claims, PBM/RX, care management, family history, business intelligence (BI) and analytics outputs, labs, health coaching, disease category, and eligibility.
Having reliable data readily available is a paramount concern for health plans. It is used to coordinate and personalize care, close gaps, and improve health outcomes by:
Identifying health risks and Social Determinants of Health (SDOH)
Targeting members eligible for care management programs
Enhancing the member's electronic health records.
Improving predictions and accuracy of BI tools and analytics system outputs
Managing incentives
Providing the needed insights to build relevant cohort groups
Aligning communications preferences
Leading vs Lagging Data
Leading data is valuable for two main reasons. First, leading data is often acquired in near-real-time, giving your plan the ability to act on the findings immediately with relevant and actionable intelligence. For example, leading data indicates potential health risks at member enrollment, not months later after provider visits and claims processing. It is predictive of future problems and offers early warning signs. Lifestyle risks, Social Determinants of Health (SDOH), and activities of daily living (ADL) are all good predictors of health issues before they show up in claims.
To change outcomes, you must change the timeliness of the data being used for modeling.
Both forms of data may look accurate, but lagging data is dated …many times weeks, or even months old. Payers, providers, and employers often use claims data as the primary data source in identifying risk and tracking chronic disease trends for their population health management programs. This form of lagging data looks back at a historical set of data and then tries to make predictions as to a member's future state without the knowledge of what is happening right now.
The pitfalls of using lagging data:
Accurate health risks are not identified correctly upon new member enrollment
Historical spending does NOT equal predictive risk
Delayed risk stratification and outreach for DM/CM efforts
Missed engagement opportunities with members
Delayed risk stratification can cause missed engagement opportunities with members, which impacts the goal of identifying risk indicators before the member moves to a higher risk category. According to SHRM, "Self-reported data from the health assessment sometimes is more timely than claims data and allows for immediate follow-up and engagement in health-promoting programs."
Benefits of using a leading data set:
Timing: Using leading data allows plans to identify health needs more quickly and determine what actions they might need to take.
Early Indicators: Leading data is essential to achieving health goals by providing early indicators or warning signs.
Results: When added to the current risk and predictive modeling, a leading data set provides a more accurate member prediction and a higher opportunity for ROI on population health efforts.
The most easily accessible leading data set: Health Assessment Responses.
For years, health assessments have evolved to become a valuable source for capturing leading health data. Health assessment is known by many names, HRA, HA, Health Assessment, Health Appraisal, Health Risk Assessment. A health assessment is a screening tool that helps individuals identify and understand their health risks and monitor their health status over time.
At PDHI, we conduct HRAs that include a questionnaire and personalized feedback about actions that can be taken to reduce future risks, maintain health, and prevent disease. We deliver the responses and risk data to a plan's care management and analytics systems for targeted interventions and risk management.
Best practices for collecting HRA data:
Portal access, single sign-on (SSO) from the member portal
Paper versions as an alternative option for those unable to access the digital version
Incentives to motivate members to complete their assessment
Member outreach via live agent completion support services related to the completion of the HRA
Access to tools for health navigators such as brokers or care teams to help complete the HRA on behalf of the member
Alternative tools and services to facilitate support for those with disabilities
Health plans rely on industry gold standard accreditations and certifications like HITRUST and National Committee for Quality Assurance (NCQA) as mile markers that they're on the right road.  PDHI has been HITRUST certified since 2017 and NCQA certified since 2008. These certifications indicate that we meet best practices for security, privacy, and compliance with quality standards.
Why HRA…why does it matter? Is it worth the effort?
Members rely on their plan to support their health initiatives; the ROI is hard to track but the impact is enormous for claims caught and avoided. Health plans capturing data from a health assessment can be proactive rather than reactive regarding patient care. Using leading data rather than lagging data enables plans to deploy a set of data-driven actions that consider the person, as well as the socioeconomic factors. Leading data will allow you to accurately understand the whole person and identify the best resources to address the health needs of the population. The benefit involves financial efficiencies for the plan as well as health equity for the member.
PDHI is a software organization that develops and distributes the ConXus Platform to support population health management, point of care, and corporate wellness programs. With a 25-year history of success, PDHI is trusted by hundreds of companies including health plans, wellness providers, and large employers across the United States. ConXus enriches the member experience and meets accreditation requirements with NCQA-certified health improvement tools and health appraisals. To learn more about how PDHI can provide your Population Health Management Program with leading data during member enrollment, check out our solutions for Health Plans.
Get The White Paper
10 Things to Look for in a Health Assessment & Template Request for Proposal