Insights Break Down Barriers in Health Equity: Using Health Assessments to Identify Social Determinants of Health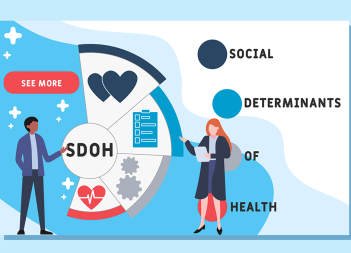 The US Department of Health and Human Services defines social determinants of health (SDOH) as, "the conditions in the environment in which people live, learn, work, play, worship, and age that affect a wide range of health, functioning, and quality-of-life outcomes." SDOH can be grouped into five categories:
Economic stability
Education access and quality
Healthcare access and quality
Neighborhood and physical environment
Social and community context
SDOH significantly impacts health outcomes, life expectancy, productivity, and health care costs and can account for as much as 80% of health outcomes.
How do SDOH Impact the Healthcare Industry?
The rising prevalence of outcome-based or value-based care models has accelerated the interest in SDOH due to the improved quality of care and cost-effectiveness associated with SDOH interventions.
"Research shows that social determinants of health can be more important than health care or lifestyle choices in influencing health."

-World Health Organization
Policymakers have clarified that advancing racial equity and supporting underserved communities through equal access to services and information are top priorities. Health plans must meet health equity requirements for NCQA Accreditation, HEDIS measure achievement, and state Medicaid mandates.
CMS has offered opportunities under Medicaid and CHIP to cover housing-related services and support, transportation, home-delivered meals, educational services, employment, community integration and social support, and case management.
How do SDOH Impact Employers?
Social determinants of health are also a priority for employers and a key component of benefit design and corporate wellness programs. Social risk factors affect employee productivity, absenteeism, and healthcare costs, impacting business performance and profitability.
Collaboration with benefit providers and community stakeholders to address social factors that enhance employee and community well-being is essential for a high-performing workforce. This report by the National Alliance of Healthcare Purchaser Coalitions identifies a process model and key recommendations for employers.
Identify SDOH with PDHI's Health Assessment
Data from sources like a health assessment can identify social factors, implement risk stratification, and tailor intervention and engagement strategies based on needs.
PDHI's NCQA-certified health assessment includes questions for social factors in four categories: housing insecurity, food insecurity, social support, and safety. The member can complete the assessment questionnaire using digital tools or a paper questionnaire, or the questionnaire may be completed on behalf of the member by the case manager or wellness specialist.
Health assessment reports identify at-risk populations, allowing the development of community programs and wellness initiatives for targeted interventions. Aggregate reports summarize risk factors by group and over time to detect trends and measure the impact of intervention programs that address members' health inequalities.
Additional Resources:
"Social Determinants of Health: A Guide for Employers." Northeast Business Group on Health, https://online.flippingbook.com/view/703279374/. July 2022.
Explore More About SDOH in Our On-Demand Webinar