Meeting State Medicaid Health Risk Assessment Requirements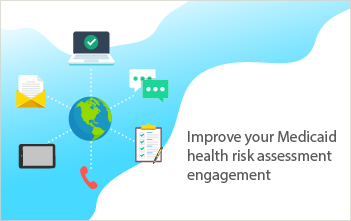 Many Medicaid departments have issued state-specific standardized health risk assessments and require contracted MCO plans to assess newly enrolled members within 90 days of enrollment and in some cases annually thereafter.
In addition to the burden of data collection, state Medicaid departments also require that assessment results are submitted on a periodic basis using defined file layouts, data field definitions, and submission procedures.
Engaging Medicaid members can be challenging, with frequently changing contact information and fluctuating eligibility. However, a recent Pew Research study shows that 71% of people with a household income of less than $30,000 have a smartphone, so outreach by email and text and health assessment completion online offer valuable engagement options.
Our experience working with a number of Medicaid plans has shown that best results for health risk assessment completion are achieved with a multi-channel approach that combines outreach by phone, email, text, and mail, combined with options to complete the assessment online, on paper, and by phone.
How we can help
ConXus Profile is a configurable health risk assessment engine. Where NCQA accreditation is required, PDHI's NCQA-certified Medicaid assessment, available in adult and pediatric versions, can be modified to include state data collection requirements. Where NCQA compliance is not a requirement, ConXus Profile can be readily configured to deploy state-specific assessments.
For member completion, the health assessment questionnaire is available on a smartphone or as a pre-printed scannable paper form. For telephonic outreach programs, an online portal provides easy access for health navigators to track outreach status and complete the health assessment on behalf of the member.
Robust eligibility management and workflow tools drive outreach campaigns based on available contact information and preferences. All results are loaded into a single database, allowing members to be filtered out as soon as an assessment is completed, optimizing outreach efficiency. PDHI offers outreach services to work alongside or supplement your internal resources. The ConXus Platform records every outreach attempt and interaction with the member, supporting internal and state audits to verify that the workflow process is compliant with the governing regulations.
For programs that include incentives, ConXus Rewards manages awards, exemptions, and reporting. A fully integrated reward-fulfillment service is offered in partnership with Online Rewards to deliver digital and physical gift cards and debit cards.
Online reports provide your program managers with access to participation metrics, assessment results, and incentive status. Data extracts on a scheduled or as-needed basis deliver results to meet state submission requirements and to provide input into care management programs for targeted interventions.