The ConXus Platform Powers National Pharmacy Flu Voucher Program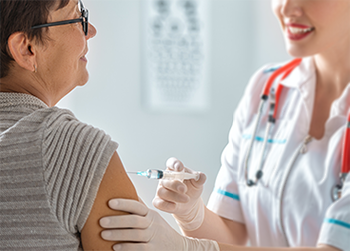 Influenza is a potentially serious disease that can lead to hospitalization and sometimes even death. For the 2017–2018 season, the CDC estimates that the flu was associated with 48.8 million illnesses, 22.7 million medical visits, 959,000 hospitalizations, and 79,400 deaths.
The flu vaccine has been shown to reduce flu-related illnesses and the risk of serious flu complications. Protecting employees from the flu is a high priority for employers, but achieving high participation can be challenging.
PDHI's ConXus Platform powers the eTrueNorth pharmacy flu voucher program to make flu shots easy for employees and their employers. Leveraging the accessibility of retail pharmacies, the program is offered at over 5,000 Walmart, Stop & Shop, Giant, Hannaford, Giant Martin's, and Food Lion pharmacies nationwide.
A secure online portal coordinates eligibility and makes it easy for participants to select a pharmacy and create a personalized voucher. Trained and qualified pharmacy staff deliver flu shots during all pharmacy hours. Monthly activity reports track engagement and manage billing.
The voucher program provides a convenient and cost-effective solution for employers that may not have enough volume to support an onsite event. And for employers who do offer onsite events, it offers a simple solution for remote employees and employees who miss the onsite event.